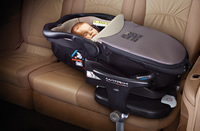 The Best Buy Car Seats (CRS)
Technically, a car seat or car carrycot is called a "Crash Restraint System" or CRS.
The Fleming/Ayra car seat medical research report demonstrated that the higher the angle the lower a newborn babies blood oxygen levels fall and that when you add in simulated driving conditions that this can lower blood oxygen levels still further.
Angle is key and with the latest technology it is perfectly possible to manufacture a low angle or lie flat CRS system that has excellent crash test results. Some manufacturers claim that a step angle is required so that a newborn is best protected in a road traffic accident but this is untrue. The bottom line is that they never invested in modern technology and are now playing "catch up".
In essence, there are three styles of CRS in the UK that offer a low angle or lie flat position.
Conventional hard body carrycot style CRS
Conventional infant carrier CRS
Multi-position CRS
Over recent years some car seat brands have purposely developed low angle/lay flat CRS systems on the basis that they were "healthy and safe".
The very fact that these CRS have been marketed as "healthy and safe" clearly implies that the residue of car seats for new-borns on the market are unhealthy and unsafe.
The brands that manufacture lie flat / low angle CRS models are (in alphabetical order with models in black bold):-
Aprica

..."Euro Turn" does not fit on a pushchair to make a travel sytem. Not available in the UK

Be Cool

..."Match" offers a totally lie flat position for a new born and for older babies a rear face option as well (multi-positional car seat). Match fits on the Bugaboo Cameleon pushchair and all Be Cool, Jane and

Concord

pushchairs to make a travel system. "Match" shares the same shell as the Jane Matrix Light 2 and fits on the same ISOfix base. Previous to the launch of Match, Be Cool offered a model called "Twice" which could only be secured in the car with seat belts. This model is now discontinued in the UK but you may find the odd few still available.
Britax ..."Baby Safe Sleeper", fits on selected Britax pushchairs to make a travel system. Now discontinued in the UK.
Concord .."Sleeper", fits on the same pushchairs as Be Cool & Jane with exception to the Bugaboo Cameleon.
Jane .."Matrix Light 2" & "Transporter 2" fits on the same pushchairs as Be Cool with the exception that Transporter 2 do not fit on the Bugaboo Cameleon.
Joie ...."i-Level" fits on most pushchairs that uses Maxi Cosi adaptors.
Kiddy..."Evoluna" and "Evoluna Fix" models, fits on most pushchairs that use Maxi Cosi adaptors.
So, what are the negatives with all the car seats and car carrycots listed above?
Well, firstly some are heavy to lift and some may be very difficult to find. Secondly, some are expensive and the reasons for this is that there is a lot more work in building a state of the art CRS than a bog standard infant carrier car seat.
So let's look at the different types of CRS as listed above.
The Britax "Baby Safe Sleeper" is one of the oldest of the CRS lie flat carrycot models and Britax has announced that they intend to retire this model soon. Indeed, by the time you read this you may well find it impossible to find this CRS. It shares the same DNA as with the Jane "Transporter" and Concord "Sleeper". All of these CRS models lie across the back of the car taking up the space of two passenger seats. They all can be attached to certain pushchairs to make a travel system. There are no health issues with these carrycots and no time limits for how long a newborn can travel in them, indeed most of these models can be even used for over-night sleeping as baby is laying in them exactly as he/she would do in a moses basket or crib. All of these in car carrycots can only be secured in the car using the cars seat belts and all have very good crash tests results.
The Kiddy "Evoluna & Evo Luna Fix" models are of the conventional infant carrier type and indeed it looks exactly like any other infant carrier. Unlike the carrycot style CRS it works by being "low angle" not totally flat as marketed. These seats can only rear face so only takes up one passenger seat. Kiddy models can only be secured in a car with ISO-fix mounts and in some cars thay can restrict the amount of leg space for the driver/front passenger as these are fairly large seats.If you are unsure what ISO-fix is click the link at the bottom of this page to see our very own video. It has had over 600,000 YouTube views!
Just like the car carrycots this car seat is quite heavy but it has the advantage of being able to attach to more pushchair models than the carrycots. A picture of a Kiddy Evo-Luna i-Size together with its ISO-fix base is pictured below. Crash test results are very positive.
The Joie "i-Level" is similar to the Kiddy models but takes up less room in the car, is lighter and normally less expensive than most other near lie flat car seats. This seat is fairly new to us but at first sight looks a very good car seat.
Finally, we come to the last category the multi position models. Without question the Jane "Matrix Light 2" is the dominant model multi position CRS in the UK. It works by easily transforming from a lay flat car carrycot model to a conventional semi-upright infant carrier simply by pulling a lever. When in carrycot mode Matrix takes up two passenger seats as it lays across the back seat of a car. When in car seat mode Matrix rear faces but it is not suitable for a newborn in this mode as the angle is too upright. We would recommend this position only once baby reaches 6 months of age. At that point Matrix has another advantage it that it is quite long so baby can rear face for much longer than a normal infant carrier. Crash test results for the Jane Matrix Light 2 are very good.
In 2017 Be Cool (part of the Jane Group) announced the introduction of "Match" which shares the same features to the Jane Matrix (together with a few add ons) and will fit on the same pushchairs. Match became available in the UK in May 2018 and the great news is that Match is very competitively priced.
Match and Matrix Light 2 can be secured safely in the car in either position using the cars seat belt. Matrix & Match can also be secured in the car by way of an ISO-fix rotating base (Jane call it a "Platform" see top right image).
All the brands Jane, Be Cool and Concord are owned by the Jane Group, one of the worlds largest baby product suppliers and winners of numerous industry awards.
The Aprica "Euro Turn" is like the Match, Matrix and Twice but it cannot be attached to any pushchair so will not make a travel system. It is very difficult to find in the UK because of the cost but you can import it from other countries. However, expect to pay £1000+ for Euro Turn (or newer model variants) and in our view, it is poor value for money even though it is a great car seat.
One final piece of advice if you are expecting your first baby and want a travel system.
If you want a healthy and safe car seat (as listed above), choose the car seat first..........and then look at the pushchairs that can accept the car seat to make a travel system.
If you choose the pushchair first you may well find your preferred car seat can't be secured to it and this often leads to disappointment. The pushchair market is stacked with lots of options but that is not the case with healthy and safe car seats.
Alternatively, if you don't want a travel system simply choose your preferred car seat and preferred pushchair and accept that they are unlikely to work together.
If you need any advice choosing a car seat (or indeed a pushchair) please call us on 02392 670 670 or use our contact page to message us.

Unsure what ISO-fix is click here to see our video: https://www.youtube.com/watch?v=qL3c3hs9who
For a video demonstration of Jane Matrix Light 2 and the ISO-fix platform click the link below: https://www.youtube.com/watch?v=rShBQ3QMIfI